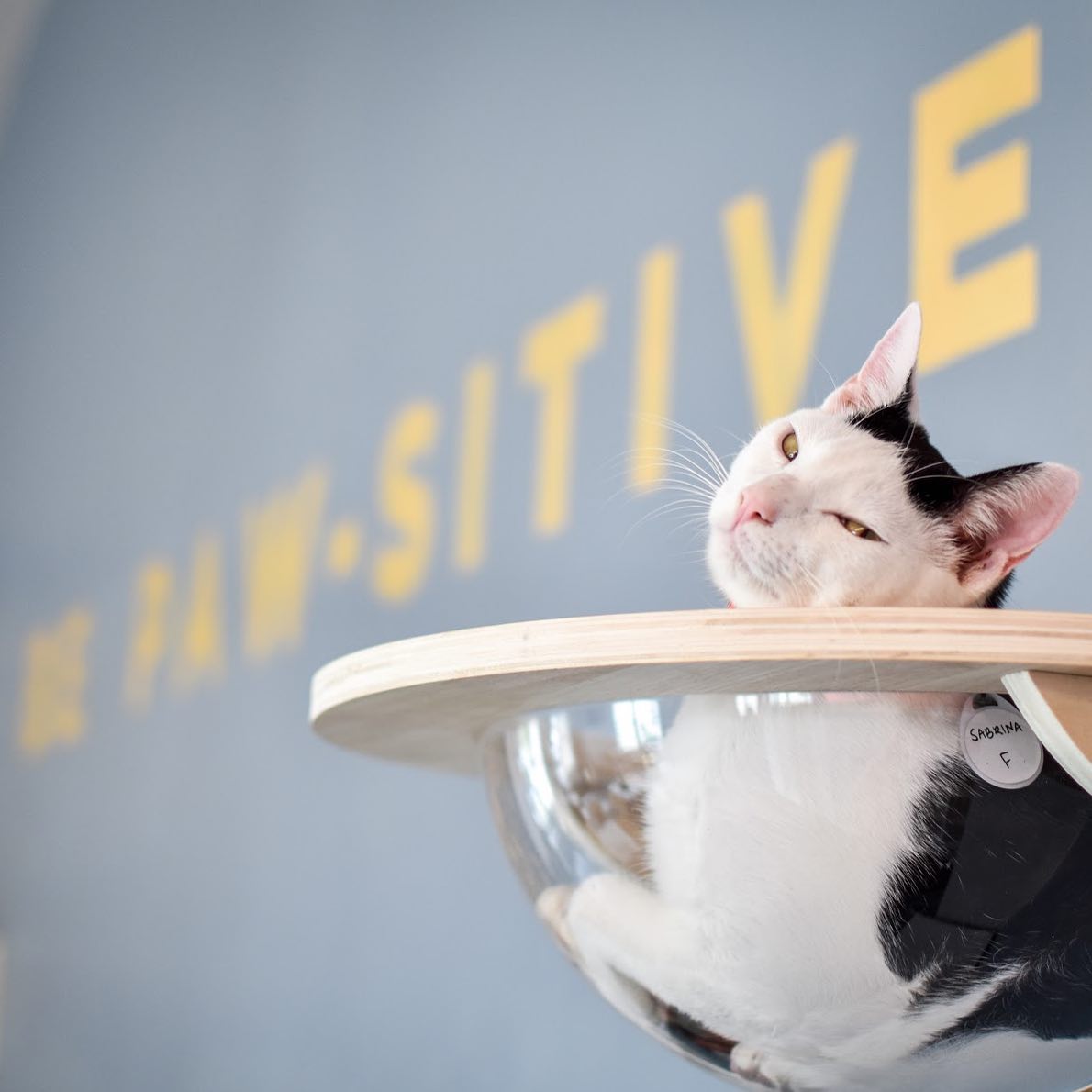 How Does a Cat Cafe Work? - FAQ's Cat Therapy
Do you ever wonder what happens behind the scenes here at Cat Therapy? Do you have questions? Here's some fun info about how our Cat Cafe works! 
How does Cat Therapy help at-risk cats?
It is estimated that approximately 860,000 cats that enter shelters are euthanized every year. Here at Cat Therapy, all of our cats are rescues who were at risk of euthanasia in high kill shelters and facing homelessness on the streets. By fostering these cats in our space, we are able to make more room in their facilities to use for cats that need immediate rescue, therefore saving more lives. By housing these cats in a comfortable, safe and nourishing environment, we drastically improve their quality of life and give them a temporary home while they wait to find their forever family. Without the stress of living in a cage like most shelter cats, the kitties are able to show their true personalities to potential adopters! Because our kitties live in a space where they are comfortable and socialized, adopters are able to connect with kitties in the same way that they would at home! 
How do you decide who comes to Cat Therapy? 
We are in touch with our rescue partner Stray Cat Alliance every day. When they have cats that are ready for adoption and do not need to be at the vet office or specialized care foster homes, they're scheduled to come to us. This allows for our rescue partner to have those much needed resources ready for new, time sensitive rescues, like baby kittens or sick cats. They decide who comes to us in order to ensure we are helping them as much as possible. Sometimes we make requests to ensure we have a variety of ages and purrsonalities! But for the most part, kitties are assigned to us. 
How do you make sure your cats are comfortable at Cat Therapy and around other cats?
As you may already know, we work with a wonderful rescue organization based in Los Angeles called Stray Cat Alliance. Whenever new cats arrive, they are examined by team members and our vet to make sure they are healthy and ready for the Cat Cafe life. They then stay in a kennel or a playpen for about a week to allow them to get comfortable with the space and the other kitties. A new environment can be overwhelming for kitties at first, so we always make sure they are comfortable before letting them roam around with the other kitties! Keeping them isolated for a period also allows time to monitor them for any symptoms of illness that they may have developed before coming to us. Then they get to come out, hang out with the other kitties, and enjoy pets and socialization from our visitors! This is one of the big reasons why all of our cats here get along so well! They are given time to become comfortable with the new environment and become friends with all the kitties! Our space also has a lot of hiding spots so cats can retreat and relax if they feel unsure about things during the first few weeks. 
How do you keep the cats so healthy?
All of our staff members are trained to recognize different health concerns in cats. Our cats are regularly examined to make sure they are happy and healthy. Because of this, symptoms of illness are caught very early, and the kitty is isolated to be treated and to prevent anything spreading to the other kitties. The kitties also get a weekly visit from a veterinarian to make sure their health is in tip top shape!
What do team members do on a regular day that we don't see?
Every day before opening, a team member comes in early to feed the kitties, clean, and make sure the space is ready for visitors. Regular cleaning is extremely important to maintain the health of our kitties, and to make sure every visitor enjoys their time without any stinky smells! We do this morning cleaning for about 3 hours!! Throughout the day, our team continues to clean and scoop litter boxes to keep the space clean all day long. Once visiting hours are done for the day, a team member does another thorough cleaning of the space, feeds the kitties, and makes sure they have everything they need for the night!  
Who designed the space?
A Cat Cafe needs to be an environment that is appealing to the human eye, easy to sanitize and also provide what cats need to be comfortable. We designed our space ourselves, with the help of cat behaviorists. It provides cats with everything they need to thrive, from wall shelves to climb up on and observe the world, to lots of windows, hiding spots and a back room to retreat to if a break is needed. There's also access to litter boxes from all angles. Our gate separating the main area to the entrance is not completely cat proof but it does discourage them from spending time near the main door. 
We hope you enjoy the space we created! Our cats sure do! 
Do you have a lot of adoptions? 
Yes we do! The goal of Cat Therapy isn't just to foster at risk cats, we also want to provide potential adopters with a place where they can connect with the cats in a way that will encourage bonding. Most people that come to Cat Therapy visit just for fun, which is great because our cats get socialized. But a lot of these people end up falling in love and we do have visitors that are coming specifically to adopt. Overall, our comfortable environment promotes connection between cats and humans and that results in a successful adoption rate. 
How can I be a part of your rescue work and support your kitties? 
We fund our work two ways: Through the online sales of the adorable cat themed merchandise we design and through entry fees for visiting our cats. You can help us by shopping our merch here or booking a visit! 
You can also follow us on Social Media as @CatTherapySB and stay connected with our kitties! 
How can we schedule a visit?
We are now open for safe visits! You can also book the space for a private visit. Walk ins are allowed but reservations are recommended to ensure we have a spot for you and the space ready to go! Appointments can be made on our booking page.
 Our space is cleaned and sanitized thoroughly every morning and between visits, so you can be assured that you are entering a clean and safe space with our kitties.