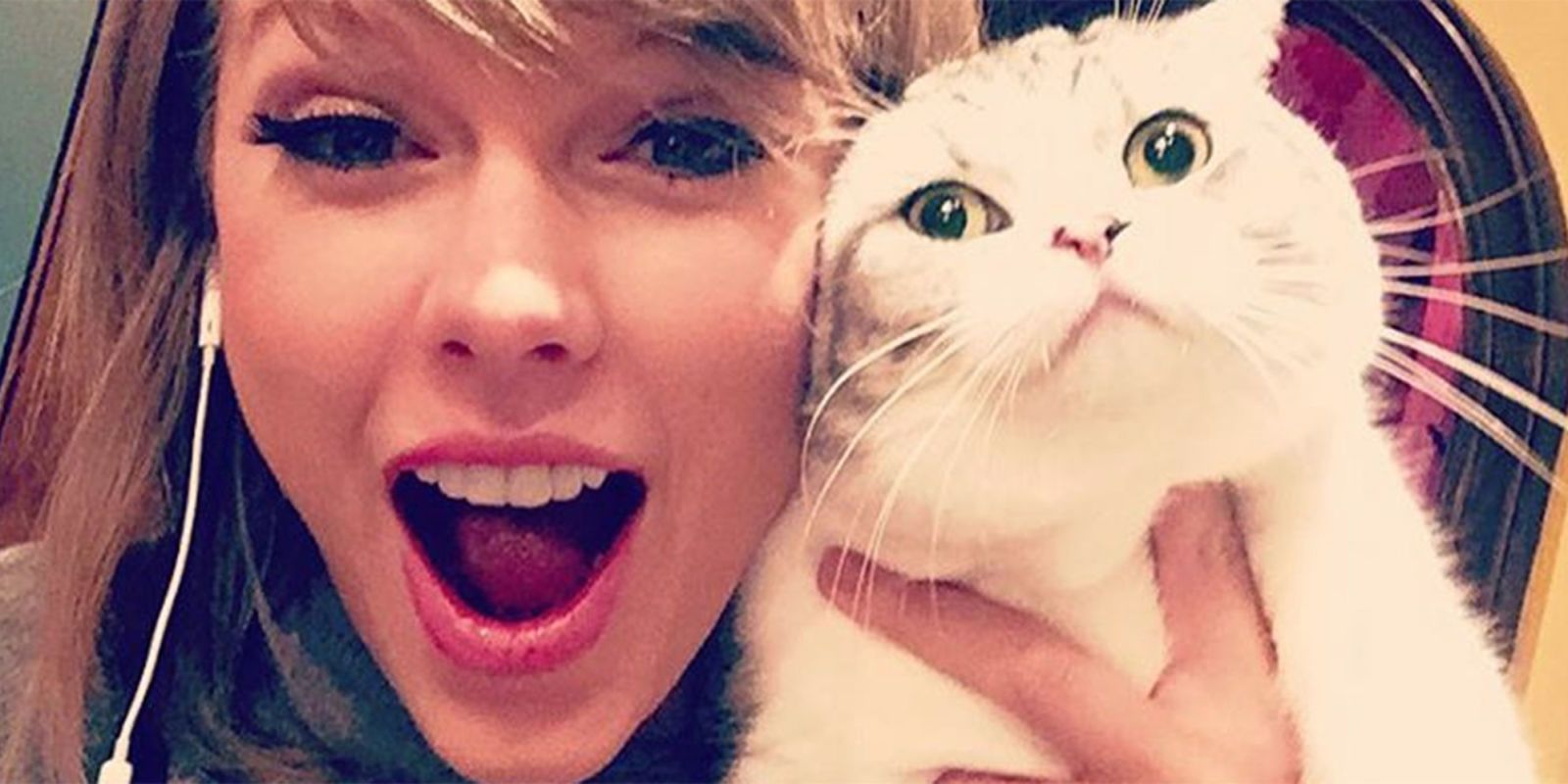 Our Cats Favorite Taylor Swift Songs From Fearless
Our cats overheard humans talking about Taylor Swift lately. It's no surprise that she's once again trending. But this time it's because of something super cool. If you haven't heard, she re-recorded her successful album Fearless so she could own the rights this time (the first time, her previous label owned pretty much everything and it was quite unfair). All the woman power to her! 
If we've learned anything, it's that the cats here have CATTITUDE, just like TS. Like "writing-songs-about-your-exes-and-winning-11-Grammys-for-them" cattitude, and each have their own unique personalities. They asked us to write this blog so they could tell you their favorite songs off of Taylor's latest release to give you some insight into their purrsonalities! Genius! 
LANA (left)
Lana's favorite song is definitely Fifteen! She's our youngest kitty here, at four months old. She's still getting the hang of this whole "cat party" lifestyle here, but lately she's been getting really brave and exploring! We'd say she's in her high school Taylor phase, having fun and making friends. She's such a sweetheart and would love for you to come sit with her and listen to all of her stories!
SWEETIE PIE & PLUCKY DUCK
Sweetie Pie and Plucky Duck are obsessed with Love Story! They are our resident Romeo and Juliet, coming to Cat Therapy as a bonded pair along with their friend Dizzy Devil. These two have been inseparable since they arrived, spending every day cuddling while they get comfortable in the space. 
DIZZY DEVIL
Dizzy Devil's new favorite pastime has been jumping right into peoples' laps and snuggling in! That's why his theme song right now is You All Over Me. Anyone who comes into Cat Therapy is going to have Dizzy Devil "all over them" and might even leave with some extra cat fur as a souvenir. Only a song this full of emotion could possibly fit this guy, who puts on a dramatic performance of starvation every time we feed him.
RINGO & NOIX
Ringo and Noix feel like The Best Day really gets them. These two are bonded for life and spend every day together on the windowsill watching the world outside Cat Therapy. The best part? Rumor has it that they might even be a father-son pair… which is why The Best Day is perfect for them! If you walk by our windows, you'll definitely see these two faces peeking out at you.
COSMO
Cosmo has been listening to That's the Way I Loved You. He's the perfect mix of sweet and cuddly but also has a fiery side and will get bursts of energy where he wants to run and play. Hanging out with Cosmo is a "roller coaster kind of rush" if we've ever seen it! We just think if he had longer legs and opposable thumbs, he'd be driving on the highway blasting this song.
ARIANNA & ANASTASIA
Arianna and Anastasia's perfect song is You Belong With Me, because these two never leave each other's sides. They are tortoiseshell sisters who love spending all day cuddled in the same bed together. But make no mistake, when nap-time is over these two are running around playing tag in the space! These sisters definitely belong together, and they are the sweetest bonded pair that are looking for a future home together. 
CHESHIRE
Cheshire has lived the most cat lives out of anyone else here. He's eight years old, and one of the biggest cats we've seen! His theme song is Change, because he's lived through so much in his life and he's ready to find a forever home snuggled under someone's covers. He seems like a wise old man and we'd love to hear his stories. 
FRANK AND FRED
Frank and Fred are the sweetest brothers, and their favorite song off Taylor's latest release is Superstar. They might be a little shy, but they know they are total stars and super photogenic, ready for the spotlight. Their secret trick is waiting until we close and then running as fast as they can on our big cat wheel! We know as soon as they get comfortable here at Cat Therapy, they're going to be the stars of the show.
ASLAN
Aslan is our resident romacer. He knows how to play the heart strings and might even try to adopt himself by trying to follow you outside. His theme song is Forever and Always because if he decides to grace you with his presence at Cat Therapy, he'll be making you want to spend forever with him. In a past life we think he was the boy who broke Taylor's heart in this song, but in this life he's a big orange lover. 
ASHES
The award for our most mysterious cat definitely goes to Ashes, so of course her perfect song has to come from Taylor's vault. We think she loves That's When with Keith Urban, because if there's any cat in here that's secretly a country fan, it's probably Ashes. If she's not out playing, she might be in one of her favorite hiding spots, like in her secret cubby!
PRINCESS & LOLLY
Lolly and Princess have been listening to Today Was a Fairytale and White Horse on repeat. These two girls are sweet and sassy, and totally remind us of big dreamers with girl power energy! Lolly loves to play with toys and watch for birds out the window, and Princess likes to walk around like she owns the place, picking out her favorite benches to lay on and watch everyone. These two are a bonded pair and definitely best friends, and they are looking to go home together to their future family!
GUIDO
The infamous Guido's theme song is Mr. Perfectly Fine. Don't get us wrong, he is the sweetest boy and doesn't have a mean bone in his cat body, we just couldn't help but make the joke about how "perfectly fine" he is lounging up on the tallest shelf all day! He's been a Cat Therapy resident for a year, and even though we can't wait to see him find his forever home, we love seeing him everyday checking us out from his windowsill spot.