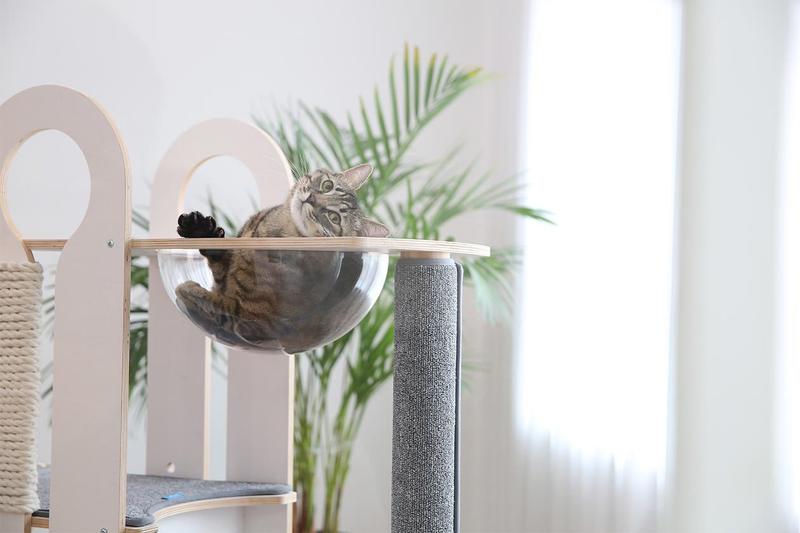 Our Favorite Cat Tower, Litter Box Furniture + More!
When we designed Cat Therapy we realized it's hard to find good quality cat furniture that meets their instinctual needs but it's also pleasing to the human eye. If you're a cat parent, you may have experienced the same thing! 
A little while ago we found Tuft and Paw, a company that makes good looking cat furniture that consciously meets your beloved feline's needs. Big perk? Their furniture actually looks nice, it's made with great quality materials and it's easy to clean!! Every item will blend seamlessly with your stylish home. If you're looking for alternatives to the typical carpeted cat tree or plastic litter box, keep on reading! Here's a selection of our favorite Tuft and Paw products. They're game changing, in our experienced opinion! 
1- THE VISTA CAT PLATFORM / SHELF
A total game changer for cats that love to climb. If your kitty is always climbing up on the counters, book shelves and pantry, this is for her! Cat shelves not only help take advantage of the vertical space of a house or apartment, but they provide cats with a much appreciated viewing point from where they can observe their dominion.
Pro tip:

Install these where your cat will get a fun view like the living room or near a window, and make sure it's within their reach (install them in a ladder style or make sure there's something they can use to reach it). Multi cat households should get several of these! Click on the picture to shop meow! 
2- THE KIP BED COLLECTION 
There's just something about these cat beds that make kitties purr and knead almost instantly!! The slightly concave shape makes them feel contained and comfy, while the fuzzy texture reminds them of momma cat, aww!! We can tell you from experience cats ADORE these type of beds.
Pro tip:

These are purrfect to protect your couch or bed. To ensure your kitty uses it, place it somewhere they already love hanging in. Sometimes cats won't lay in a new bed until it smells like them or something they like, sprinkling it with some catnip always helps! 
3- FLOOF CUSHION 
Let's stay in the cozy napping products for just two more things. THIS CUSHION! The faux fur is not only soft but emotionally comforting to kitties because it's such a familiar texture. Use this to enhance their favorite napping spot, get it in combination with or on it's own. Click on the photo to purchase. 
4- THE STELLAR SPHERE
We don't know about you, but we kind of wish we were cats so we could sleep in this sphere. This is for those reserved kitties that wish for some extra privacy. The opening is purrfectly sized so they can still look out, but the sphere offers a comfortable escape for kitties to just relax. Plus it looks absolutely stunning!! Click on the photo to shop!
5- THE COVE LITTER BOX
For those cats who do not appreciate a roof over their heads, this litter box is just amazing. It has a smooth design, free from hard-to-clean crevices. The "privacy shelter" contains the litter while your kitty does their weird litter box dance. It includes a
n integrated scoop, dustpan, and hand brush to make cleaning it even easier. 

Did we mention it also looks good? Click on the photo to shop!
6- MIA CARA FEEDER
If your cat loves making a mess or pushing their feeding bowl around the floor, this is the choice for them! Revamp and declutter their feeding area with this set. For extra cleanliness, grab a silicone mat too! 
7- SAVING THE BEST FOR LAST: THE MILO CAT TOWER
We've searched far and wide for a cat tree that wasn't an absolute eye sore. We love this one so much we in fact ordered one to have as a CENTERPIECE of our cat lounge. Why? It's beautiful, yes, but it has many features we couldn't find anywhere else: For starters, the cloth parts of it are removable so we can clean them! This is not only helpful in a multi cat environment, it's a must.
The acrylic sphere at the top makes for the perfect perch/ napping spot for your cat, but you will also get an adorable view of their squishy toe beans from underneath! It provides plenty of climbing and resting areas for one or several cats. Pro tip: Get this tree! 
We hope you enjoyed our selection!
If you click on any of these links and end up purchasing something for your kitty, know that we get a referral fee, so it's a win-win for everyone!

We truly admire the quality and innovative designs of this brand! Make sure you also check out their CAT TOYS , SCRATCHING POSTS and other ACCESSORIES.