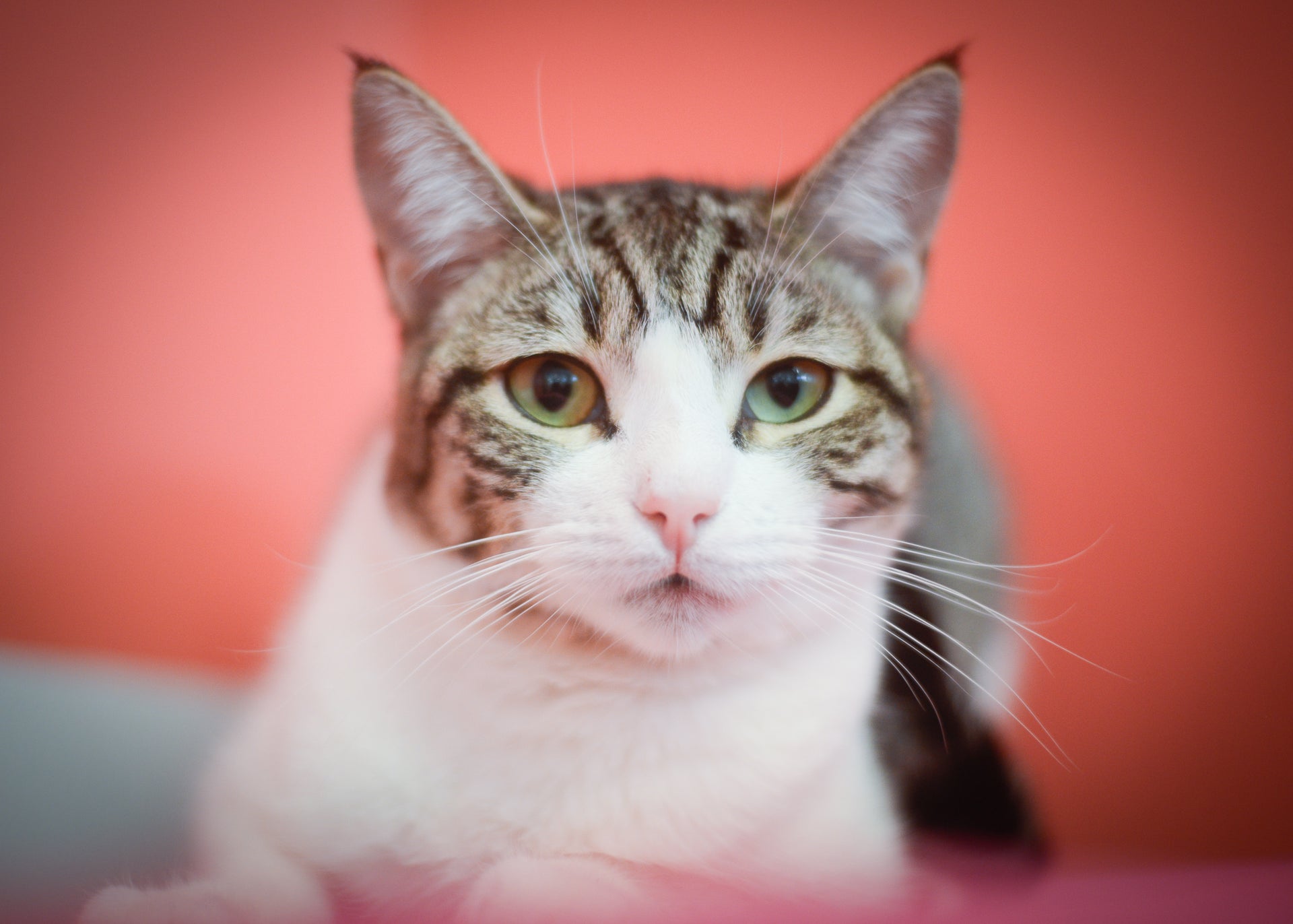 Adoptable Cat Highlight: Joey & Ray Ray
Hello human friends! 
Part of our work as a Cat Cafe is to socialize shy kitties. We strongly believe that all kitties deserve a chance at a comfortable and loving environment. This way, their purrsonalities can blossom and a happy kitty is way easier to get adopted! Shy cats need time, patience and an environment that is respectful to their need of space. At the same time, they need to be exposed to different people, noises and something incredibly helpful: Social kitties! This sets a good example for them. Cat Therapy provides them with all of these things. The result is a great environment for shy kitties to be socialized and hopefully get adopted! 
Today we're highlighting two of our shyest kitties, Joey and Ray Ray. They're funny, because they're both siblings to incredibly outgoing cats. We know they have it in them to be outgoing too! They just need to be given a chance. 
RAY RAY
Aren't those eyes just gorgeous? Ray Ray is siblings to Rosanna, a very outgoing kitty that's also being fostered here with us. We are not considering them bonded, but it would be wonderful if they went home together! Ray Ray has made a lot of progress since he's been here. He went from hiding at all times to enjoying the fluffy beds and lots of pets. He is the purrfect example of a loving, sweet kitty with lots of potential! He is not only sweet, he's beautiful and his fur is the softest we've ever seen! Did you know soft fur cats shed a little less than coarse ones? That means that a longhaired kitty like him, with silky locks, will shed less on your clothes than a shorthaired one! Are you interested in giving Ray Ray a chance? Let us know! You can always come visit him and help us socialize him by making a reservation here!
JOEY
Joey is siblings to Ethan, an incredibly outgoing kitty that has already been adopted. We're not sure why he's so shy compared to his brother, but we know for a fact he's got potential! Joey is beautiful, with his pointy ears and deep green/honey eyes. He does come off as shy, but he loves pets! He's currently in the "hide in the back room" phase and despite us knowing he'll most likely come out into the main area soon, we'd suggest asking us about him when you come visit us! That way we can show you were he is. We don't want anyone overlooking this sweet guy! If you're interested in visiting him or adopting, make a reservation here!
While we're on this subject, how about we mention a few tips for socializing shy kitties? 
Cat Therapy is a Cat Cafe Experience located in Santa Barbara, California. We rescue, foster, socialize and adopt cats that were at risk of euthanasia. We work alongside our rescue partner Stray Cat Alliance. You can visit us regardless of your ability to adopt. Visits to our cats are fun and help us fund our cat's care. We also make the best cat themed T-Shirts and other apparel and accessories that are great gifts for cat lovers. Shop right meow here!